SIGN UP FOR OUR WEEKLY E-BULLETIN FOR OUR LATEST NEWS AND ANNOUNCEMENTS

We meet Sunday mornings at 9am and 11am. We have Children's Ministry available at the 9am & 11am service for infants through 5th/6th graders. We have Jr. High & High School Ministry available at the 11am service for 6th/7th graders through 12th graders. We look forward to worshiping with you each and every week!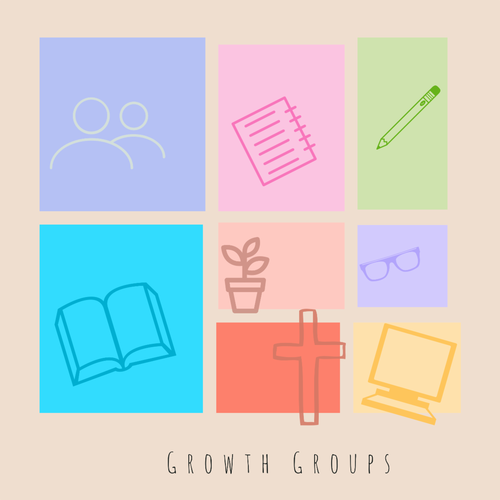 Growth Groups are small, gender-specific groups of 3-5 men or women who meet weekly to go through the New Testament together, pray for each other, and hold each other accountable in their spiritual growth and obedience to Christ.
The next season of Growth Groups will run from January 18-June 18.
Click on the link below and we will try to get you plugged in with a group as soon as possible!
Life Groups are meeting Wednesday & Thursday nights at various times. For those of you in a Life Group already, look for instructions from your Life Group leader for information on how to connect. For those of you not already in a Life Group, we highly encourage you to keep connected with our church body by joining one now. You can sign up using the button below.
Study Groups: New Testament Orientation
Study Groups are classes meant to help enrich our knowledge of Scripture. Loving God will all of our mind is a vital part of discipleship! Join us Tuesday nights starting March 2 through March 23 from 6:30pm-8:30pm in the sanctuary for our next session of Study Groups. This session's class will be a New Testament Orientation taught by pastors Mike & Joel. You won't want to miss it! Register by clicking the button below.
Youth & Young adults mexico trip
Youth and Young Adults, join us for a short-term missions trip in Mexico March 5th through March 7th. We are in need of some supplies for outreach purposes, so if you would like to donate, please click the button below to view our Amazon Wish List.
Hinds feet on high places ladies' book club
This much-loved classic has much to say to followers of Jesus who are on pilgrimage with Him! You may find yourself in your own valley of fear, despair, or worry — you name it! Your heart yearns to walk more closely with the Shepherd of your soul — to leap on the High Places of Christ-likeness. Join us on this journey as we read together, discuss the book and look at God's promises in His word. We meet over coffee at 9am the first Saturday of the month, and for a charcuterie board picnic at 12pm on the third Saturday of every month, both at Hurless Barton Park, 4601 Casa Loma Ave, Yorba Linda, California 92886. Our first meeting will be Saturday, March 6. Debbie Douglass will be leading this study, and you can contact Nancy Gutierrez for more info at (714) 866-9201
We are excited to announce the men are having another Men's Breakfast on Saturday March 13th from 8:00-10:30am. This is a great time for the men to encourage each other through fellowship and the Word. Look for a sign up table downstairs. Cost is $5

Contact: Pastor Dana Neal 714-423-7055
Ingredients for Joy in Troubled Times: An Afternoon of Cooking with Julie Healis
Ladies! Join us for an afternoon cooking class with the amazing Julie Healis and a message on, "Ingredients for Joy in Troubled Times" from guest speaker Janiene Bishop. We will be meeting Saturday, March 13 at 12pm in the courtyard. Cost is $10, and you can sign up in the courtyard on Sunday morning to reserve your spot. Make sure to bring your own knife and cutting board to participate. You don't want to miss out! Contact Nancy Gutierrez for more info at (714) 866-9201
Dessert GAthering for Amy Baby
We are excited to invite you to the upcoming dessert gathering for Amy Baby on Sunday, March 14th. This is a sweet opportunity to hear about what the Lord is doing in South Asia and be stirred for the Gospel.
We will be meeting in the High School Room from 6:00-8:30pm.

Contact: Pastor Joel Garcia 562-322-4718
If you're a mom in the trenches of motherhood, join us for Inspired Motherhood - monthly conversations with panel discussions and small groups that will leave you feeling inspired by Jesus, energized in your task, and connected with other moms. Our next meeting is Saturday, March 20th at 9 am in the church courtyard. Limited childcare available upon request. Please RSVP or inquire to Shannon Schow at (714) 322-6502.
Student ministry fellowship & bbq for parents, students, and leaders
Our student ministry leaders will be hosting a BBQ and fellowship time for our high school and jr. high families. We'll be swimming, eating, playing games, and casting vision for the ministry.
April 18th from 4:00-7:00 pm
Contact: Pastor Mike Thiemann 714-400-7090
Please join us as we gather for worship and encouragement through the word. This study is designed to stir us up to get involved with the great commission and set a fire in our hearts to reach the unreached with the gospel. All are welcome. We meet the 1st and 3rd Sundays of the month at 1:00pm at Pastor Trent's home and have lunch together. Text Nancy Gutierrez for more details.
Contact: Nancy Gutierrez 714-866-9201
Morning devos in
2 corinthians
Join us for a new live-streamed morning devotional series. We are looking at the book of 2 Corinthians: Power In Weakness, Monday-Friday @9am starting February 1st. You can view the series on our Facebook page
People all over the world are suffering from COVID-19 and its implications. Entire countries are on lockdown, day laborers and their families are dying of hunger, dwindling medical supplies are in high demand, and people's hearts are opening to the Gospel of Christ.

Will you partner with us to bring practical aid and the hope of Jesus to those who are most desperate in the midst of these dark times? Your donation will go straight to SGWM missionaries in the hardest hit areas where they will be able to give food and hope to those in need.

Click on the link below to make a donation of any size.