SIGN UP FOR OUR WEEKLY E-BULLETIN FOR OUR LATEST NEWS AND ANNOUNCEMENTS

We meet Sunday mornings at 9am and 11am. We have Children's Ministry available at the 9am & 11am service for infants through 5th/6th graders. We have Jr. High & High School Ministry available at the 11am service for 6th/7th graders through 12th graders. We look forward to worshiping with you each and every week!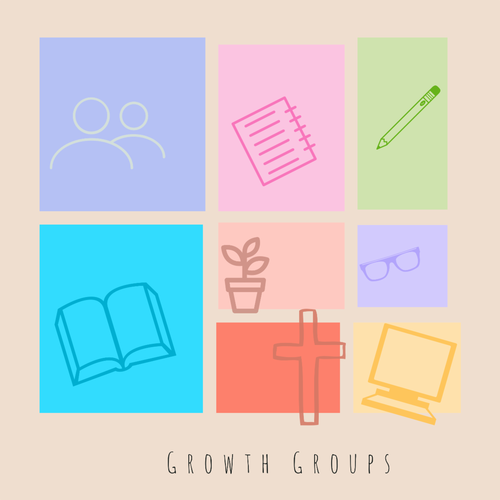 Growth Groups are small, gender-specific groups of 3-5 men or women who meet weekly to go through the New Testament together, pray for each other, and hold each other accountable in their spiritual growth and obedience to Christ.
The next season of Growth Groups will run from January 18-June 18.
Click on the link below and we will try to get you plugged in with a group as soon as possible!
Life Groups are meeting Wednesday & Thursday nights at various times. For those of you in a Life Group already, look for instructions from your Life Group leader for information on how to connect. For those of you not already in a Life Group, we highly encourage you to keep connected with our church body by joining one now. You can sign up using the button below.
Hinds feet on high places ladies' book club
This much-loved classic has much to say to followers of Jesus who are on pilgrimage with Him! You may find yourself in your own valley of fear, despair, or worry — you name it! Your heart yearns to walk more closely with the Shepherd of your soul — to leap on the High Places of Christ-likeness. Join us on this journey as we read together, discuss the book and look at God's promises in His word. We meet over coffee at 9am the first Saturday of the month, and for a charcuterie board picnic at 12pm on the third Saturday of every month, both at Hurless Barton Park, 4601 Casa Loma Ave, Yorba Linda, California 92886. Debbie Douglass will be leading this study, and you can contact Nancy Gutierrez for more info at (714) 866-9201
If you're a mom in the trenches of motherhood, join us for Inspired Motherhood - monthly conversations with panel discussions and small groups that will leave you feeling inspired by Jesus, energized in your task, and connected with other moms. Our next meeting is Saturday, May 15 at 9 am in the church courtyard. Limited childcare available upon request. Please RSVP or inquire to Shannon Schow at (714) 322-6502.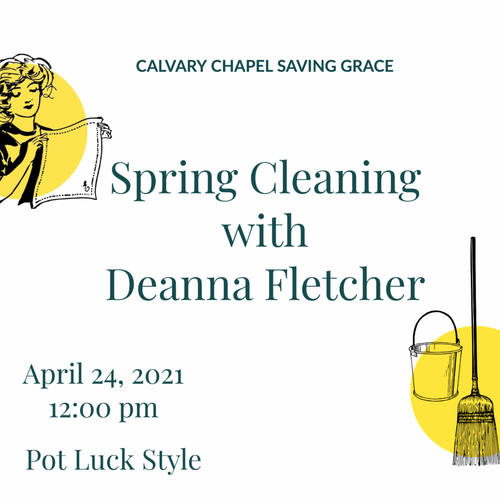 Spring Cleaning Women's Event
The Women's Ministry invites you to join us on Saturday April 24th at 12 noon in the church courtyard to learn some awesome Spring cleaning tips from our very own Deanna Fletcher. She will not only be giving us some great cleaning hacks but sharing wisdom from God's Word to keep our hearts and minds clean.

Contact: Debbie Douglass 714-865-5455
Celebration of Life for Curtis Bishop
Many of you may remember the Bishop family. Curtis Bishop started our BBQ Ministry. Several years ago he and his wife moved out of state. We will always be grateful for his many years of service here at CCSG. We welcome you to come to Curtis's Celebration of Life service at CCSG on Saturday, April 24th, at 4:00 pm.

Contact: Pastor Joel Garcia 562-322-4718
Men's Ministry Meat Night
Meat, meat, and more meat. Calling the men out for a night of fellowship, diving into the Word, and of course the eating of meat. On
Friday, April 30 at 6pm we will meet at the home of Isaac Madain's house: 27030 Maiden Moor Lane, Yorba Linda, CA 92887. The cost is $10.

Contact Dana Neal (714) 423-7055
MEDIA TEAM TRAINING NIGHT
Are you interested in serving the body of Christ through the media team? Or perhaps you have already been a part of this ministry. We will be having a training night on Tuesday, April 27 at 7:00pm in the sanctuary. The media team includes sound, live stream, and projector ministries. All are welcome. Please come join us as we better equip our team in how to serve in this ministry.

Contact: Bryan Reyes (714) 733-3550 or Jeff Root (308) 750-0928.
We will be having a baptism class on Sunday, May 2 after 2nd service in the high school room. Come on out to learn about what the Scriptures say about Baptism and how you can prepare.

Contact: Joel Garcia 562-322-4718
Study Groups are Bible College-style classes where our pastors and teachers take us through more in-depth study of God's Word. Our next session will be through the book of Hebrews. Click below to sign up today!

When: Tuesday Nights, May 4th-June 8th, 6:30pm-8:30pm
Where: Main Sanctuary
Contact: Joel Garcia - joel@ccsavinggrace.com
We will be having baptisms on Sunday, May 16th in the courtyard following 2nd service. In order to be baptized you need to attend the baptism class and sign up. Don't forget a change of clothes and a towel!


Contact: Joel Garcia 562-322-4718
Ladies, it is time to dust off your spring dress and join us for our women's spring tea! Grab your fancy tea cup, cute hat and come ready to enjoy a wonderful morning together. Make sure you sign up in advance. The cost per person is $15 and space is limited. We will be enjoying a message from guest speaker Rachel Zwaye on "Abounding in Hope". Sign ups will be downstairs in the courtyard. It will be on Saturday, May 8th, from 10am-12pm.
Contact: Nancy Gutierrez (714) 866-9201
Please join us as we gather for worship and encouragement through the word. This study is designed to stir us up to get involved with the great commission and set a fire in our hearts to reach the unreached with the gospel. All are welcome. We meet the 2nd & 4th Sundays of the month at 1:30pm at Pastor Trent's home and have lunch together. Text Nancy Gutierrez for more details.
Contact: Nancy Gutierrez 714-866-9201
People all over the world are suffering from COVID-19 and its implications. Entire countries are on lockdown, day laborers and their families are dying of hunger, dwindling medical supplies are in high demand, and people's hearts are opening to the Gospel of Christ.

Will you partner with us to bring practical aid and the hope of Jesus to those who are most desperate in the midst of these dark times? Your donation will go straight to SGWM missionaries in the hardest hit areas where they will be able to give food and hope to those in need.

Click on the link below to make a donation of any size.